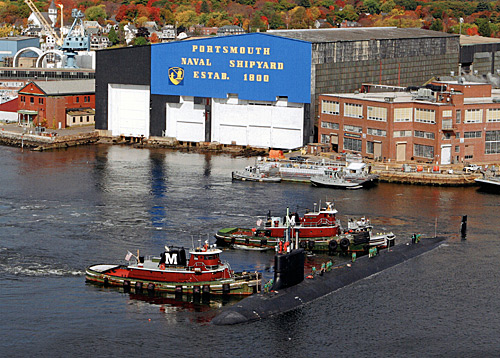 The Seacoast Shipyard Association is an association of individuals, businesses and communities dedicated to the continued existence of the Portsmouth Naval Shipyard and maximizing opportunities for its growth as a center of excellence in marine development. Since its inception, SSA's primary purpose has always been to protect the Portsmouth Naval Shipyard from closure.
To that end SSA has maintained a strong leadership team and membership organization to focus community support for the shipyard, as well as a visible and aggressive government liaison to lobby on behalf of the shipyard in Washington. SSA also promotes the competitive advantages, strategic value and potential of the shipyard to the Navy and supports the expansion of the Shipyard into non-traditional maritime endeavors including a potential global role in support of the Seacoast Community.
After decades of success in that effort, the SSA has expanded its role to serve as a watchdog to address issues affecting the shipyard's viability, workload, employee welfare and future existence. During periods when no base-closing action exists, SSA works in tandem with the Maine and New Hampshire congressional delegations to preserve the continued viability of the Shipyard. This ongoing involvement preserves the ability of the organization to quickly mobilize if, or when, another proposed closure or any other threat arises.
Membership in the organization is open to all those interested in supporting SSA's mission. For more on getting involved, click here. To become a member, click here.